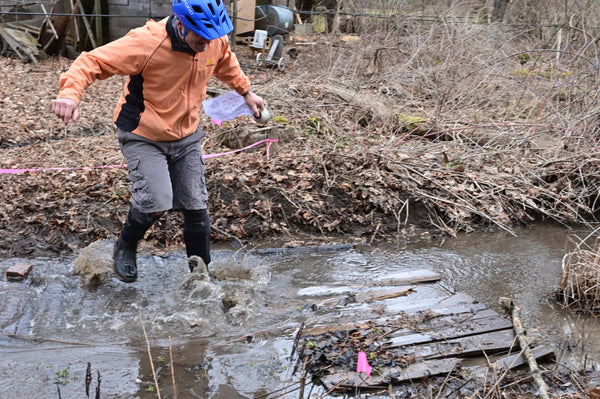 Fifth Season Race Results + Ride Report
Last weekend, March 26th, we hosted our first Fifth Season Race, and our second ever Fifth Season Ride. We started this event back in 2019, when Green Mountain College was still open. We collaborated with Ryan Carr who was working with the college at the time to put together a route that linked the local sugar houses which do a yearly open house event dubbed: Poultney Maple Fest. It snowed a few inches the night before, which made for a lovely mid-March scene as we rode around and sampled the delectable treats, and fresh syrup, as well as got toured around the local sugar shacks.
Somewhere in late February through sometime in late April is what we north easterners call Mud Season. Also known as the "fifth season". Feb-March is also sugar season! It's when the days start getting a bit longer, and the soil warms enough during the day, but snaps back to below freezing temps in the evenings which triggers an internal clock within the sugar maples that pumps sap up from their roots to their branches where new buds are beginning to form. This lovely flow is what sugar-folk syphon off to boil down to make lovely liquid magic: maple syrup.
Mid-march is usually about peak sugar season. Also peak mud season. So while the motivation is low to get outside, sugaring is a perfect fifth season activity. Harnessing the generosity of our local sugar houses, coordinating with the town of Poultney, and combining all that with our flare for ridiculous events, it was sure to be a grand ole time! Plus as one of the earliest cycling events in the area, we saw lots of new faces. What more could you ask for!?
We created a race route through some of the nastier terrain that also happens to connect the back roads to the sugar houses participating in Maple Fest. Here was the skinny on the race:
Race logistics:

Race will begin with a Le Mans style start.  Racers will leave their bikes, run to Pharten Around Pharm, which is about a 200 yard dash, drink something maple oriented, and then run back.  There is a shallow stream and a muddy bank to navigate… muck boots or similar!  Shoes are not going to cut it.  

Racers will be given a Manifesto before the ride.  That is a piece of paper with 4 check points on it.  The checkpoints are Maple Sugar Shacks.  You'll ride to the sugar shack, eat or drink something, and then have someone who works at the Sugar Shack initial if you ate or drank something.  The race winner will be determined by fastest time AND a completed Manifesto.  You MUST eat something during at least one stop, IE you can not just do maple shots.  This event is about gluttony, and only the best gluttons will prevail.  

Food items will cost a few bucks.  Bring cash, small bills, to be ready to buy that maple brat or whatever it is.  

Winner gets a gallon of maple syrup, second place a half gallon, and third a quart.

And here are your winners!
1st: Matt 
Cymanski from 
Lebanon, NH! Returned at 1:55pm, no bonus points, just pure muscle and skill.
2nd: Jon Nordmeyer
Newfane, VT! Returned at 2:09pm, -23 seconds in bonus points.
3rd: Miles  Lamberson from Richmond, VT! Returned at 2:12pm, with - 23 seconds in bonus points.
The ride deets:
Ride logistics: 

The ride is a group, no drop ride.  We'll all hang together.  Super chill pace.  We'll stop about halfway in at Gary's hunting camp for pancakes, and then at two sugar houses on the way back.  Ride leaves at 10am.  Candice will be your ride leader, with Kat on sweep.  Bring a few bucks to do samples at the sugar houses!
We meandered around the long way to our neighbor "Gary of the North"'s hunting camp. For local buckwheat pancakes served up by James, Mark, Carol, and Carolyn. It was a mellow 25 mile route, with a little class 4 road snuck in at the end. 
We had about 40 riders who were all jonesing for that buttery syrupy goodness by the time we reached camp. Look how happy and full they all are:
After camp we stopped by a few sugar houses to sample their treats and get toured around. Highlights were maple cotton candy at Green's, steak (!?!) at Verlaska's, and fried dough with maple butter at Marshall's. 
All and all it was a great time, a great excuse to consume too much sugar, day drink, and be merry...and muddy.