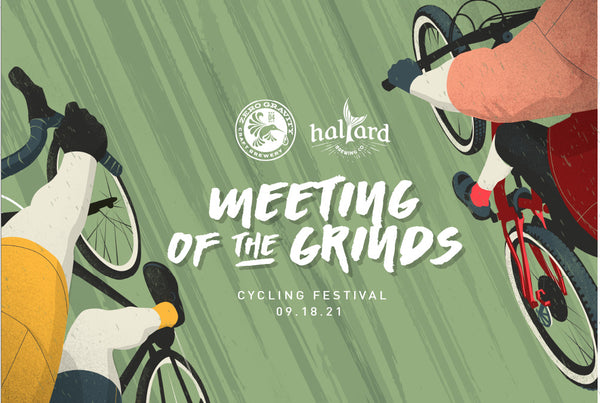 First Annual Meeting of the Grinds! 9/18/2021
Slate Valley Trails is partnering with MTBVT to host the first annual Meeting of the Grinds, an all-day cycling festival on September 18th, 2021.  Bringing together cyclists of all genres, the event will raise money the support the stewardship efforts of Slate Valley Trails and is based out of their Fairgrounds Trailhead in East Poultney, where riders can access more than 35 miles of purpose-built singletrack and an extensive network of quiet gravel and class four roads.  
The event will feature guided gravel, singletrack and adventure rides for all ages and abilities, demos, vendors, food, and beverages including a range of craft brews from Zero Gravity and craft ginger beer from Halyard Brewing. Families with children will find engaging ride options and fun activities for kids. The day will be capped with a run-whatcha-brung, no-holds-barred sprint race to nab bragging rights for the day.
Tickets start at $75, and include guided rides, food, an event t-shirt and a raffle ticket.  Proceeds to benefit Slate Valley Trails.  For tickets, visit www.eventbrite.com/e/meeting-of-the-grinds-tickets-156707178389.
About Slate Valley Trails
Slate Valley Trails, Inc. (SVT) is a volunteer community group founded in 2015 whose mission is to build, maintain and promote foot and bicycling trails in the Slate Valley region of southwestern Vermont. SVT is a registered 501 (c)(3) non-profit organization and a chapter of the Vermont Mountain Biking Association. 
About MTBVT
Mountain Bike Vermont (MTBVT.com) is an online journal, events promoter, apparel company, and rolling party starter. MTBVT's dual initiative is documenting and promoting the Green Mountain State's burgeoning cycling community. Visit MTBVT.com for info on our annual event series, shop our online store, and peruse new and archived articles. #MTBVT 
About Zero Gravity
Beautiful & balanced beers from Burlington, Vermont.
About Halyard Brewing
At Halyard Brewing Company we use organic and fair trade ingredients to brew alcoholic ginger beer.  Built on recipes that date back to the 1750s, we are reviving a pre-prohibition era ferment that is naturally gluten free, low in sugar, and absolutely delicious.
I (Candice) will be leading an "Outback" ride, a nasty 45-ish mixed terrain ride, and we'll have a display set up, a swap table + Moonshiners to demo.